Verizon Email Settings – Valid Setup Of SMTP, IMAP, Or POP3
---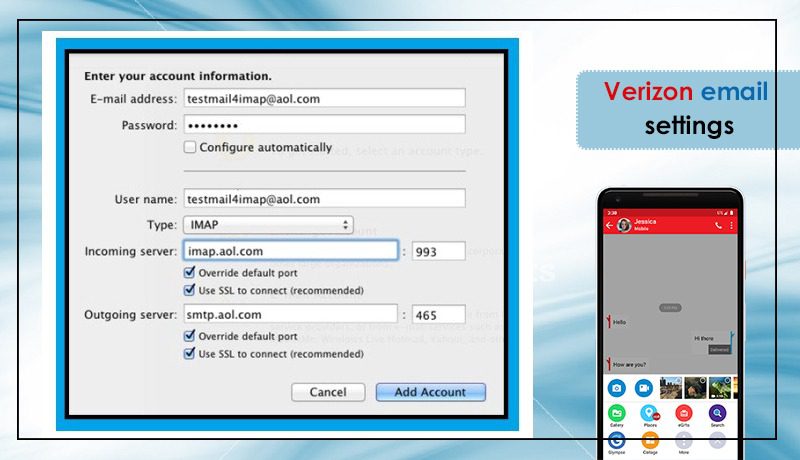 Verizon is an esteemed email client across the world that lets users manage their information in terms of emails and contacts using straightforward features. Before availing of Verizon email service, it is significant for users to enable IMAP or POP and SMPT mail settings in a valid manner to send and receive emails with ease. Here in the blog, you will learn to Setup Verizon email settings in an accurate manner.
If these IMAP or POP and SMPT email settings aren't configured validly, users will surely have issues sending and receiving emails. Let's understand more about these server settings in a precise way.
Verizon Webmail SMTP Settings
Simple Mail Transfer Protocol or SMPT is an important Verizon email setting that lets users compose and send emails without hassle.
In addition, if SMPT mail settings are not configured in the correct manner, users won't be able to send emails to anyone. Furthermore, the error message will be shown on the screen.
Surely, Verizon mail allows users to access their Verizon mail account in other email clients such as Outlook, Gmail, etc. But for this, users will first have to make sure that SMPT settings are enabled correctly. Because then, only they will be able to send emails.
Moreover, SMPT acts as a protocol that is used by various email clients to let users send emails through an outgoing mail server. Hence, check the correct configuration of the SMPT setting below so that no problem occurs later.
Server – smtp.Verizon.net
Secure Connection – SSL
Username SMTP – Verizon email(SSS@verizon.net)
Password SMTP – Your Verizon email account password.
SMTP Port Setting – 465 (SSL)
So, whenever you want to set up Verizon on another email client, use these SMPT settings.
Verizon POP3 Settings For Incoming Server
POP3 is known as Post Office Protocol and addressed the incoming mail server that saves or downloads all the information or emails on the user's device.
Through this POP3 incoming server, users can access their email in an offline mode. It is helpful when the device isn't connected to the internet as it perfectly saves the information on the device locally.
So, make sure that POP3 mail server settings are configured the way these are mentioned below. Apart from this, even a minor change or irrelevant change in the settings can lead to Verizon mail issues.
Server – pop.verizon.net
Port – 995
Encryption – SSL
Verizon IMAP Settings For Incoming Server
IMAP refers to Internet Message Access Protocol lets users receive emails. However, it is a little different from POP3.
So, the only difference between IMAP and POP3 is – IMAP saves emails on the server but doesn't download them on the device. On the other hand, POP3 is used to save or download emails on the devices of users. Due to this, users work or go through their emails without the internet.
Now, let's follow the valid configuration of IMAP server settings.
Server – imap.aol.com
Server Port – 993
Encryption – SSL
Conclusion
So, these are the Verizon Email Servers Settings in a valid manner. Make sure you set up these settings as mentioned here in the blog. In addition, get Email Assistance from the support team if there is any issue or confusion regarding the same.