How to Fix Verizon Email Login Issue | step-by-step guide
---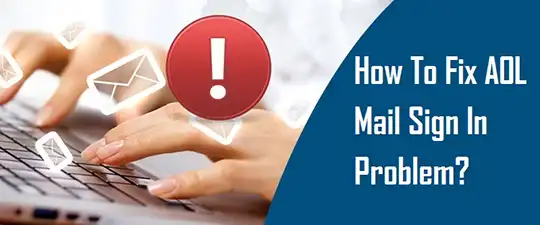 Verizon's email service was very popular at the time of its launch and several years afterward. The service has now retired, but many users still have their Verizon email accounts. On many occasions, they report a Verizon email login issue, preventing them from accessing emails.
Verizon login issues can occur due to a poor internet connection, the Verizon AOL server being down, or wrong AOL configuration settings. In this article, you will find out different ways to fix the causes of this issue and access Verizon email again.
8 Methods to Fix Verizon Email Login Issue
Method 1: Examine Your Internet Connection
You should have a stable internet connection to access your account. If the internet connection is not active, you will face several problems, like login issues or problems while loading your Verizon email.
Here are some things to try to fix bad internet connectivity.
Examine your internet cables to ensure that they are properly linked to your computer.
Turn off the modem and router. After a few minutes, start them again.
Position your router and computer in a manner that there aren't any obstacles between them.
If the techniques above don't work, contact your internet service provider.
Method 2: Find out the Status of the AOL Server
The Verizon email services have changed to AOL. So, now you will need to check the server of AOL in order to know the Verizon status.
Visit downdetector.com and find out if the AOL email service is functioning. If it isn't, you will definitely encounter Verizon email login problems.
Wait for the service to become functional again. You will be notified about it. You can also chat with AOLSupportHelp on Twitter.
Method 3: Use a Secure App Option to Access Your Verizon Mail
AOL blocks access to the mail from outdated applications as it makes the account vulnerable. So, in case of a Verizon email login issue from an older app, you can use one of the many security options.
These include the following:
Use the official AOL Mail website to access your account.
Install the AOL application on your phone.
Create an app password. But remember that they are valid only for the application they are created for.
Method 4: Check Your Credentials
One of the most common reasons for login errors is incorrect email credentials. Often, users mistype their passwords or email IDs but don't realize it. You may have mistakenly pressed Caps Lock when it is not needed or used the wrong casing.
It may also be likely that you are misspelling the email address. So, check for all these things the next time you log in to your Verizon email. If the  Verizon email problem persists, use the next procedure.
Method 5: Reset Your Verizon Mail Password
If you face Verizon email login problems even after checking your credentials, reset your mail password. After that, log in again.
In your preferred browser, navigate to secure.verizon.com/vzauth/UI/Login
Once here, tap the 'Forgot your info?' button.
After that, fill out your Verizon user ID or phone number.
Now hit 'Continue.'
Choose the 'Recovery Mode.'
You will get a recovery code on your email or phone according to what you've chosen in the step above.
Input this code.
You can now create a new password.
Finally, tap 'OK.'
Your password is now reset.
Login to your mail account with this password and see if you can access your email.
Method 6: Optimize Your Web Browser
A Verizon email login issue can sometimes crop up because of an un-optimized browser. The browser should not be full of junk.
Cookies and cache prevent Verizon Mail from working optimally. Use these points to first clear browsing data and then update the browser.
Launch Google Chrome on your system.
Hit 'Menu' and navigate to 'Settings.'
Next, tap 'Security and Privacy.'
Tap the button to clear browsing data.
Lastly, click 'Clear.'
Update the browser by pressing the 'Menu' button.
Navigate to the 'Help' area.
Tap 'About Google Chrome.'
If there is any update available, Google Chrome will install it automatically.
After that, log in to your Verizon email and check if you face any issues.
Method 7: Fix a Hacked Account
Users may also be unable to access their Verizon account if it has become the target of hacking. Reset your password to take charge of your account and access emails again.
Head to the 'Sign in' page of Verizon email.
It is verizon.yahoo.com.
On this page, fill in your username, email address, or contact number linked to your email account.
In the succeeding screen, tap on 'Forgotten Password?'
Choose the recovery email address or contact number.
You will get a verification code.
Click 'Submit.'
Enter this code and make a new password for your Verizon email account.
Method 8: Review POP/IMAP Verizon Settings
Are you facing Verizon email login problems while using it with a third-party email client like Yahoo? You may be using the wrong server settings.
Here are the correct settings with which you can rectify any mistakes.
IMAP (Incoming mail) Server
imap.mail.yahoo.com is the server name.
993 is your port number.
Fill in 'Yes' against the SSL requirement.
SMTP (Outgoing mail) Server
smtp.mail.yahoo.com is the server name.
587/465 is the port number.
Enter 'Yes' against the SSL requirement.
Fill in 'Yes' against the authentication requirement.
POP (Incoming mail) Server
yahoo.verizon.net is the server name.
995 is the port number.
Enter 'Yes' against the SSL requirement.
SMTP (Outgoing mail) Server
yahoo.verizon.net is the server name.
587/465 is the port number.
Enter 'Yes' against SSL and TLS (if needed) requirements.
Fill in 'Yes' against the authentication requirement
Login data
Enter your entire Verizon email ID in the email address field.
Fill out your Verizon email password in the password field.
Enter 'Yes' against the authentication requirement.
 Summing up
The troubleshooting techniques above will address the Verizon Email login problem in your Verizon email account. Thus, by using them you can successfully fix the issue and perform email exchanges like before. However, if the problem persists, consider getting email assistance from an email support expert.
Frequently Asked Questions
What is happening with Verizon email?
All Verizon email is not migrated to AOL or moved to the third-party email provider. Your Verizon email has also been deleted from our systems.
How do I fix my Verizon email not working?
To resolve your Verizon email not working issues, follow the prompts:
Clear browser cache and cookies: You cannot access your Verizon email service due to accumulated cache and cookies. Thus, it's advised to clear browser cookies and cache to fix your problem.
Verify server status: If you're facing server-related problems, you must check reliable online sources or go to Verizon's official website. If the server is down, wait for some time until it is restored.
Why can't I log into my Verizon account?
If you're unable to log into your Verizon account, you must check the spelling of entered username and password. To check your password, click the eye icon next to the password. Moreover, you can also contact your administrator if you're a first-time user.
How do I access my Verizon AOL email?
Visit login.aol.com/account/security and sign in with your Verizon email account and password to access your Verizon AOL email.
How do I regain access to my AOL email?
To regain access to your AOL email, follow these steps:
Visit the Sign-in Helper page
Enter your recovery number or email
Tap "Continue"
Hit "Yes"to send a verification code
Paste the code into the required box
Once done, press "Continue."
Lastly, select the account you want to log into
Why can't I access my AOL emails?
You cannot access your AOL emails due to a firewall or other security software. Disable your firewall temporarily and check whether you're not connected to the internet. If the firewall software is not listed, you must connect with the firewall software provider for additional information.
Related Resources