9 Methods to Fix AOL Mail Not Receiving Emails
---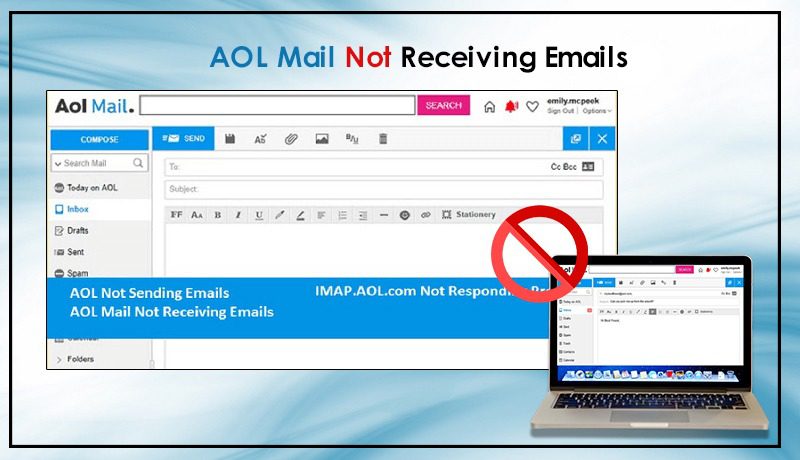 Is your AOL mail not receiving emails? Then, it could be due to several valid reasons such as a bad internet connection, server glitch, emails landing in the spam folder, no space left in the inbox, etc.
So, if you are one of those who don't have any idea how to resolve the issue, read our troubleshooting guide below. Here, you can check the easy methods to fix "AOL mail not receiving emails."
 Method 1. Restart Your Device 
Whenever AOL Mail Not Receiving Emails, the very first thing one needs to do is restart the device. Rebooting the device is helpful in fixing all temporary glitches of the device. So, do not forget this tip when you confront this error.
Simply, click the "Restart" button on your PC and wait until rebooting is finished.
In most cases, this is a very helpful tip for many AOL users. However, you can check another tip this one wasn't helpful in resolving the issue.
Method 2. Re-check Internet Connection 
The AOL mail may not be able to load the new emails properly in the memory due to a bad internet connection. So, it is important to have a good internet connection so that AOL can function properly and receive new upcoming emails.
In addition, it may be the case that your internet is working fine but you are still facing network problems.
Hence for this, you can turn off and on your modem or router. This way network glitches will be fixed.
 Method 3. Disable Filters 
Sometimes, users may have to face an "AOL Mail Not Receiving Emails" issue. Due to this, they have difficulty receiving new emails in their inboxes. This all occurs because of too many filters enabled by users in their AOL mail accounts.
Filters always cause trouble in receiving emails and therefore, it is mandatory to disable filters to get rid of the email problem. Moreover, filters also shift the emails to different locations.
In addition, you can look for your new emails in your spam or trash folder. After finding emails in spam the folder then, you can shift them to your desired locations using the steps given below.
First, open the browser.
Second, access your AOL mail account by entering a valid login username and password.
Now, go to the folder or spam where you can see your new emails.
Here, select all the emails that are important to you.
Thereafter, click on the "More" button available at the top of the screen AOL mail.
Then, click "Move" to move emails to your desired locations.
 Method 4. Update & Check the Browser 
If you are accessing your AOL mail account on the browser, then check your browser for the latest updates.
To make the browser function properly, it is mandatory for users to update the browser to the latest version.
At times, the outdated browser can cause AOL mail not to receive issues. So, update the browser and try later.
In addition, remove the browsing history of the browser as this will improve its performance.
To optimize the browser, users can also delete its cookies or cache. Make the browser free from junk files by deleting its cookies.
After optimizing the browser, the AOL mail issue will be resolved.
 Method 5. Update Operating System 
Updating the OS of your device is important to fix the "AOL mail not receiving emails" issue. Otherwise, it will lack important updates that are required to make the device function in a more efficient way.
So, update the software of whatever device you are using to send and receive emails on AOL. Once you update the device, many incompatibility issues will be fixed.
Method 6. Resetting Browser 
The corrupt or faulty browser can trigger lots of AOL email errors. So, resetting is the best option to repair issues.
Another thing one needs to do is to remove all the unnecessary extensions from the browser. If you have installed too many extensions or add-ons on the browser then, they will definitely cause email issues.
Check the steps below to reset Chrome or your browser.
To begin with, click on "Settings" in the browser.
After that, scroll down your screen.
Now, click the "Reset and clean up" option.
Then, click "Restore settings to their original defaults".
Click "Reset" further.
Here, settings will be restored to default.
Finally, you can again log into your AOL mail account and check new emails.
 Method 7. Turn Off Mail Forwarding 
The mail forwarding feature allows users to forward their emails to other desired accounts.
But sometimes, users forget that they have enabled this mail-forwarding feature and expect to receive new emails in their inboxes.
Therefore, ensure to disable the feature and then, check new emails in the AOL account.
To turn the "Mail Forwarding" feature off, simply, go to "Settings" and then, disable the forwarding option using the toggle key.
Eventually, you will be able to get new emails in the inbox of AOL email.
Method 8. Check AOL Server Down Issue
Even when the internet is working fine, AOL mail occurs due to server-down problems. Obviously, some important changes are being made on the AOL site due to which, the server doesn't process users' requests.
The server issue will be fixed on its own and for this, users can't do anything except wait and then, try later.
Method 9. Turn Off Airplane Mode
Simply, turn the Airplane mode off on your iPhone or Android device if access AOL mail on your mobile phone.
This is also a quick fixing tip for the "AOL Mail Not Receiving Emails" error message.
In case the issue keeps on occurring after disabling Airplane mode, you can remove and add the AOL account again on your phone.
Moreover, remove all the junk files and history from your device or browser.
Conclusion 
Check 9 simple fixing Methods for "AOL Mail Not Receiving Emails". Obviously, these Methods are helpful in repairing AOL mail issues. But, if you are still struggling with not receiving emails problem, then contact AOL support.
Read Also: AOL Email Not Working on iPhone