How to Fix AOL Email Not Working on iPhone
---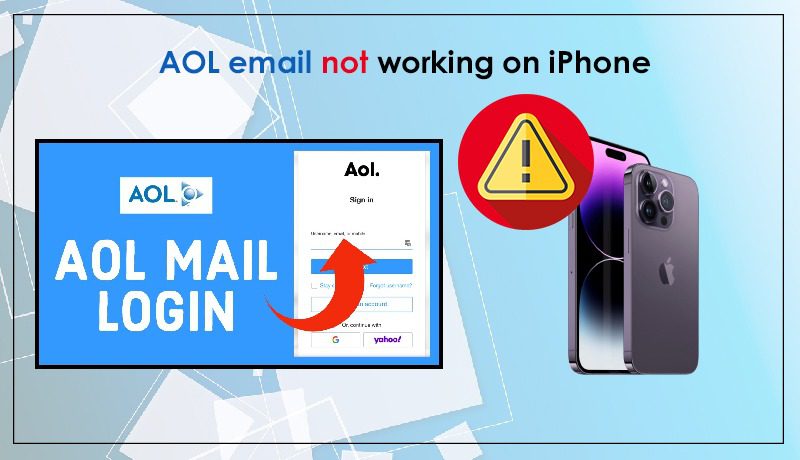 AOL Mail has been one of the dominating email clients since its release. However, technical glitches with its app on iPhone are common. Many users complain of AOL email not working on iPhone.
When AOL Mail doesn't work on an iPhone, sending and receiving emails and communicating effectively is impossible. In this post, we'll cover some of the best troubleshooting techniques for AOL Email Problems.
8 Fixes for AOL Email Not Working on iPhone
Use these fixes one by one when your AOL app refuses to work on your iPhone.
1. Reinstall the AOL account
At times, minor issues with the account cause various AOL Email not Working on iPhone. Removing and reinstalling the account fixes them.
Open the AOL application on your iPhone.
Tap the logo of AOL at the top-left.
Choose 'Manage Accounts.'
Touch 'Edit' at the top-right.
Tap the option to remove your account.
After removing the account, use the 'Sign-in' button to access your account.
You won't face any problems using it.
2. Reinstall the AOL app on iPhone
Besides reinstalling the AOL account, reinstall the AOL app and see if it resolves the issue. Removing the app eliminates additional stored data.
To uninstall, tap and hold the app's icon in the app library.
Now, select the 'Remove app' option.
After that, reinstall it by going to the App Store.
Once it downloads, sign back into your AOL account.
3. Check AOL Mail settings
Incorrect settings are a leading cause of AOL email not working on Apple devices. Fix it using these points.
Go to 'Settings' on your iPhone.
Navigate to 'Mail, Contacts, Calendars.'
Choose your AOL email account.
Ensure that the email address is correct.
Enter imap.aol.com as hostname.
Enter smtp.aol.com in the SMTP server field.
Now, head back to the home screen.
Check if you can use your AOL Mail account properly.
4. Ensure that your credentials are correct
Sometimes, users wonder, 'why my AOL email is not working' only to realize later that they've entered incorrect credentials.
You must not make any mistakes in typing your AOL account login ID and password. If the password you entered is wrong, AOL Mail will not work on any Apple device, such as iPhone or iPad.
5. Refresh your network settings
Refreshing or resetting network settings removes the data from the Wi-Fi accounts you visited earlier.
So, ensure that you have them written somewhere before doing the reset. It's another good way to fix AOL email not working on iPhone.
Move to 'Settings' followed by 'General.'
Now choose the 'Reset' option.
Click the 'Reset network settings' option and input your passcode.
Wait till your iPhone reconnects to the Wi-Fi you were using earlier.
This step will remove outdated connection problems preventing your AOL account from working smoothly.
6. Update your iPhone operating system
You will find AOL email not working if the operating system of your iPhone is outdated. It negatively affects the fetching of emails via third-party apps.
Move to iPhone's 'Settings' and choose the 'General' option.
From here, select 'Software Update.'
If it shows that your iOS is updated, there's no need to do anything.
But if iOS requires an update, performing it will fix the AOL email problems that you are facing.
7. Force stop and restart the AOL app
Another technique to use when you find AOL email not working on your iPhone is to force stop and restart the app.
iOS 9.3 and later users should follow these steps.
Press the 'Home' button twice.
Alternatively, you can swipe up and hold.
Now, swipe up the picture of the AOL app.
Launch the app again.
See if it works correctly.
8. Reset all AOL accounts
Do you have several AOL accounts in your app on your iPhone? In this case, you might not know the issues preventing the AOL app from working.
So, try to reset all accounts in one go.
Open 'Settings' on your iPhone.
Scroll down and tap 'AOL.'
After that, choose 'Reset All Accounts.'
Now, all accounts in the application will get reconfigured.
Sign into each one individually and check if the problem persists.
Final Thoughts
It isn't very pleasant to notice AOL email not working on iPhone. But with these techniques, you can start using your email once again. However, if no resolution works out, consider email assistance from the experts.
Frequently Asked Question
Why my AOL email is not working on my iPhone?
Some of the chief causes of this issue include the following.
Internet connectivity issues.
Incorrect AOL email settings.
A glitch with the AOL Mail app.
Outdated iOS version.
Why does my AOL app crash on my iPhone?
You can make your AOL app work smoothly without crashing in many ways.
First of all, clear the cache and data in the settings of the iPhone.
Another way to fix it is by doing a hard restart on your iPhone.
A third way is to get the latest AOL app version.
Read Also: AOL Mail Not Receiving Emails