Easy Steps to Fix Yahoo Mail Not Working Problems
---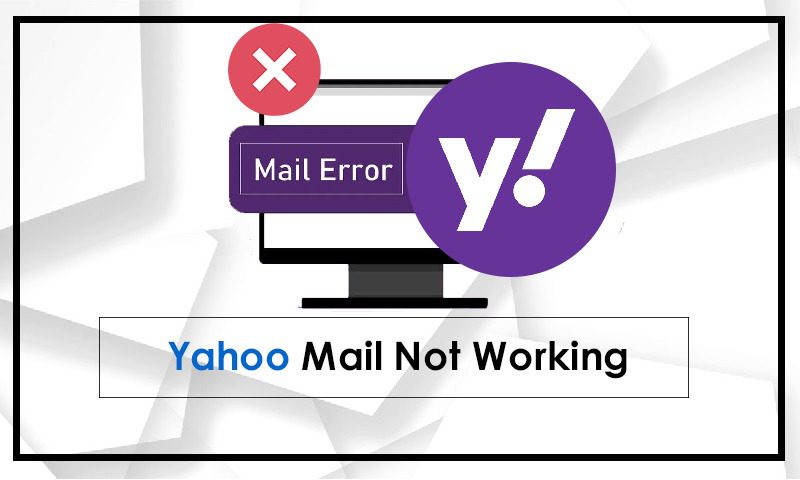 There could be something wrong with your Yahoo mail account if the message "Yahoo mail not working" displays on the screen. But that doesn't mean you can't get rid of it. You can indeed fix Yahoo mail problem once you know the proper troubleshooting techniques. Here in this blog, you will get the best techniques to repair the glitches that prevent you from sending & receiving emails on Yahoo.
So, continue reading the troubleshooting insights mentioned below to resolve the issue.
Read This Also : outlook not showing images
Why is Yahoo Mail Not Working? – Causes
Moreover, you can also check the causes that trigger Yahoo Mail Not Working issue. Once you know the causes, it will be easier for you to reach solutions for fixing Yahoo issues.
You may not access your Yahoo account after providing the incorrect login details.
The Yahoo server may be down.
The attachment you try to send must be violating sending limits of Yahoo.
You must be using an old version of your browser.
Cookies or browsing history may cause Yahoo mail not to work correctly.
Third-party apps or firewalls can also trigger yahoo problems.
Read This Also : outlook inbox not updating error
Resolving Tips For Yahoo mail not working
Time To Update Your Browser
You may not be able to use Yahoo mail features easily if your browser is of an older version. So, update the browser to the latest version so Yahoo features can be used & accessed effortlessly. In addition, go to the settings of your browser and install whatever latest updates are available.
After the web browser is updated, log into your Yahoo account, and this time you will see some positive changes with the previous working of your Yahoo mail account.
Delete Browser History & Cookies
Make sure you are using a browser that is compatible with Yahoo mail. Apart from this, do not forget to optimize the browser by removing all its cookies and unrequired history data.
Once the cookies or unwanted saved information is deleted from the browser, several Yahoo mail issues will be fixed automatically.
Yahoo mail login issues will probably be rectified after the browser cache is cleared. But if it is not, move to the next solution below.
Read This Also : resolutions for outlook send receive error
Why Yahoo Login Fails
If this is your first time logging into your Yahoo mail account on this device, hurdles are apparent to come on your way.
When you use a new device to log into your Yahoo account, Yahoo requires you to verify your identity. You can't log into your Yahoo account if you fail to verify your identity.
If you have entered incorrect login details too many times, your Yahoo account will be locked for 12 hours.
So, be careful while submitting your Yahoo account login details.
If you don't remember your login information, reset your Yahoo password by clicking the "Forgot Password" option.
Read This Also : resolve outlook sync issues
Restart Your Device
If you still can't access your Yahoo account, you need to restart your device and try again later.
Due to temporary glitches or technical issues, Yahoo may not work as it should. So, restart your device to fix those temporary technical issues.
How To Fix "Yahoo Mail Not Working On iphone"?
Update iPhone Firmware Program
If Yahoo is not working on your iPhone device, update your iOS operating system first. The older version of your iPhone firmware may not be compatible with Yahoo mail, so you are facing issues. You can update iOS in two ways – 1. iTunes 2. Wifi
Update Through iTunes:-
First, download and install iTunes on your PC. Make sure iTunes is updated.
Second, connect your PC to your iPhone using a cable.
Now, open iTunes and click on "Device."
Click on "Summary" & then the "Check for updates" option.
Tap the "Download & Update" option. After this,

iOS will be updated

.
Read This Also : export outlook calendar to excel
Update Through Wi-fi
First, turn on your iPhone and connect it to a wifi network.
After that, access "Settings."
Choose the "General" option.
Now, click on the "Software Update" option.
After that, tap "Download & Install."
Now, you will install essential updates to your iPhone firmware.
If your phone space is complete, it will direct you to delete unrequired data.
Add Yahoo To iPhone using IMAP
With alterations to the iOS system, Yahoo mail may have some incompatibility due to which you can't access your account.
So, in this situation, you can remove and re-add the Yahoo mail account on your iPhone.
Remove Yahoo Mail:-
Tap "Settings"
Next, tap the "Accounts and Passwords" option.
Select your "Yahoo Account."
Here, push the "Delete Account" key.
Finally, confirm deleting the account by tapping "Delete."
Read This Also : outlook signature not working
Again SetUp Account Manually:-
Go to your iPhone's "Settings."
Now, select "Account & Password."
Tap the "Add Account" option & then "Other."
Then, tap "Add Mail Account."
Enter all the correct details of your mail account.
It will require you to provide incoming & outgoing server details.
Access Yahoo Account On Browser
In case the Yahoo mail application is not responding on your iPhone, log into your mail account using a web browser. Try to access your account from your PC.
Troubleshooting Yahoo Unable To Send and Receive Email
You may face Yahoo login issues even if you make a minor mistake. If you cannot send emails on Yahoo, check the reasons below.
If an email you want to send to someone is present in the draft folder, it is because you must have forgotten to send that email. So, confirm that and re-send the email.
Moreover, always double-check your recipient's email address so that mistake is made while sending the email. This will assure you that you have sent mail to the right person.
Also, ensure you haven't blocked the email address to which you want to send the email now. Suggest the recipient check their spam folder.
Yahoo Unable To Receive Mail
You need to check your spam folder and filters if new emails aren't coming to your Yahoo mail account. Remove filters so that you can quickly receive new emails on your account.
Also, check that you have not blocked the email id from whom you expect to receive emails.
Conclusion
Get access to Email assistance for more help and support if your Yahoo mail is still not working fine. Although our troubleshooting tips must have helped you a lot, you can clear your doubts and seek solutions by contacting us.
Read This Also : outlook keeps asking for password