Learn To Remove Duplicate Emails In Outlook- 5 Easy Steps
---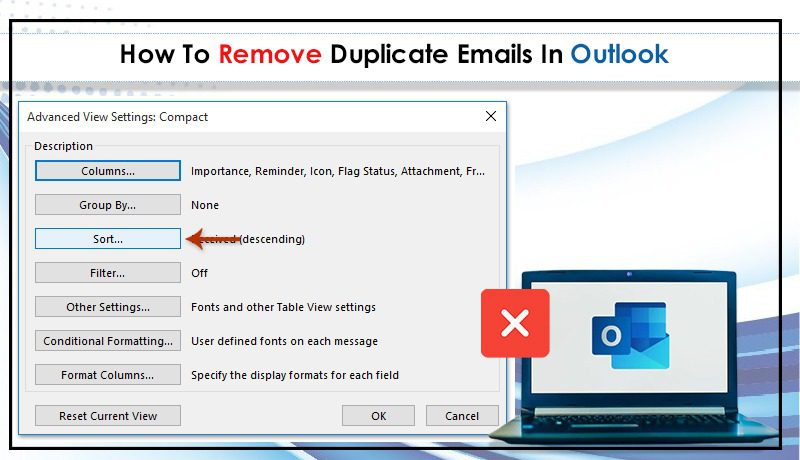 Outlook is indeed a popular email client in the world that lets users manage their emails, contacts, calendar, and so on. However, due to duplicate emails, users are bound to face confusion and a lot of problems. If you require to Remove Duplicate Emails in Outlook but don't know how, then, keep reading the information below.
Truly, duplicate emails in your Outlook mail won't cause serious problems but they will definitely lead to some confusion. So, it is mandatory to delete duplicate emails in Outlook as soon as possible so that you don't have to face any trouble later.
In addition, even though Outlook lets users delete their duplicate emails, the process seems to be a bit difficult. So, let's first understand what duplicates in emails in Outlook.
Read This Also : outlook wont open
Why Emails Are Duplicated In Outlook?
Cause 1: Outlook Mail Server Technical Issues
When you find out that emails in your Outlook account are copying themselves, then, it probably could be due to a server glitch. Due to technical issues in the Outlook server, emails or messages can duplicate themselves. Hence, wait and let the server problem get resolved on its own.
Read This Also : outlook notifications not working
Cause 2: Invalid Setting Of Mailbox
When a user creates an account in Outlook, he or she unwillingly can set up mailbox parameters in an invalid way. As a result, messages get duplicated several times. Therefore, you need to configure the settings validly.
Cause 3: Outlook Account Setup On Different Devices
It may be the case that you have set up your Outlook email account on different devices and due to this, the synchronization of the new messages or emails takes place. So, yes this can be one of the reasons for email duplication in Outlook.
Read This Also : bellsouth email not working
Cause 4: Slow Internet Performance
The slow connection of your internet can also cause email duplication in Outlook. Because of poor connection, the synchronization of the emails is affected and repeated inappropriately.
Cause 5: Sending & Receiving Emails Frequently
If you are sending and receiving too many emails or messages very often, the incoming emails start to duplicate themselves. So, make sure that you maintain time between sending and receiving emails.
Cause 6: Antivirus May Be A Reason
When you have enabled the antivirus on your device, then, it may block the proper loading of incoming emails. As a consequence, the email messages start duplicating. Therefore, disable the security programs temporarily as long as you need to use Outlook email.
Read This Also : aol email not working on iphone
Cause 7: Mail Forwarding Isn't Setup Appropriately
This is another valid reason that leads to email duplication in Outlook mail. Hence, make sure you choose the locations to store your emails carefully. Otherwise, they will be copied if you choose the same location.
How To Find Duplicate Emails In Outlook?
Finding duplicate emails in Outlook is not a task of just a few seconds. It may take you more than seconds to find duplicate emails. But worry not!
To find the duplicity of your single Outlook email, you can use the given properties. Based on these given fields you can get an idea of your duplicated emails.
Recipient of emails
The name of the attachment
Sender name
The subject of your email
Text
Read This Also : yahoo mail not working
How To Remove Duplicate Emails In Outlook?
Now that, you have known why emails get duplicated in Outlook, remove duplicate email addresses in Outlook using the 5 steps given below.
Step 1. Configure Outlook Rules Appropriately
If Outlook email rules are configured rules in a valid manner, this will bring confusion for you in various email folders. So, take care of this fact. In addition, make sure that the single instance of Outlook is open. If you find many instances are open, simply, close them down with the help of the task manager.
Step 2. Boost Inbox Update Frequency
In this step, we would recommend you increase the inbox update frequency. Once you do this, Outlook emails will be synchronized perfectly. Therefore, check the given steps to do so:-
Initially, launch the Outlook program.
Second, click "Send or Receive".
Thereafter, choose "Define Send" or "Receive Groups".
Now, choose any number between 15 and 30 for the "Schedule an automatic send/receive every" option.
Read This Also : icloud email not working
Step 3. Use Inbox Clean Program
If you want to know how to delete duplicate emails in Outlook, you can use this Outlook inbox clean program. This is a utility program that helps users find and delete their duplicate emails to avoid confusion.
Therefore, see the steps below to use this program.
First, launch Outlook on your device.
Now, go to "Inbox Folder" in which you find duplicate emails.
Here, click the "Clean Up" option available on Home.
Thereafter, choose duplicate emails in the given category:-
Folder Clean-Up – Using this option, you will be able to delete duplicate messages from a particular folder.
Sub Folder & Folder Clean-Up – This option will help you to clean the folder as well as the subfolder.
Conversation Clean-Up – It will delete duplicate conversations in your Outlook mail.
Read This Also : sbcglobal email not working
Step 4. Professional Outlook Toolkit
Outlook users can also use the Professional Outlook toolkit to remove duplicate messages and junk files. Using this professional tool, not only you can delete repeated emails but also can remove junk files that increase the productivity of Outlook mail. Moreover, the tool will also help you to repair the PST files.
Step 5. Disable Antivirus
The antivirus program's security features may disturb the synchronization of Outlook emails. Due to this, message copy themselves. So, disable the antivirus program for some time.
Most importantly, do not forget to restart Outlook mail after disabling the antivirus program.
Conclusion
So, these are steps you can follow to remove duplicate emails in Outlook. In case you are still facing issues in getting rid of duplicate emails, get Email Assistance from the experts.
Read This Also : resolve comcast email not working